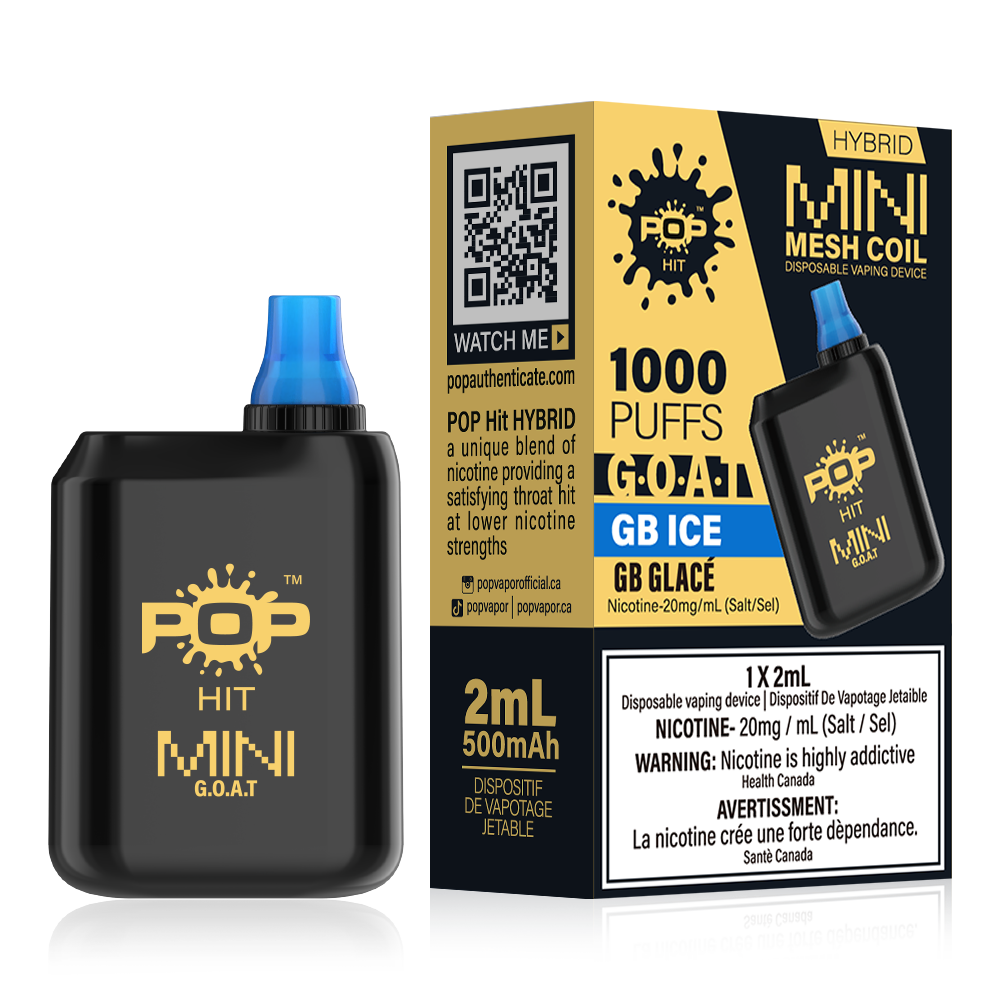 Box Mini GB Ice
Disposable Vape
Let's take you back to the childhood memories with an overdose of sour and juicy gummy bears, giving you a nicotine hit like no other.
Nothing beats fresh and perfectly-ripe bananas, leaving a super refreshing flavour after every exhale. It's the perfect sweetness overload.
 Introducing Pop Box
2 ml e-liquid
500 mAh battery
1000 puffs
ergonomic design
pre-charged
USB-C charging port
20 mg Nic Salt Hybrid
Unveiling the compact yet powerful Pop Box Mini. Enjoy up to 1000 puffs from a 2ml e-liquid reservoir and a robust 500 mAh battery. Designed ergonomically for perfect grip, it comes pre-charged for instant vaping pleasure. Benefit from fast USB-C charging, indulge in 15 flavor profiles, and savor the smoothness of its 20mg nic salt hybrid. Pop Box Mini is the pocket-sized powerhouse you always needed!
Compact Yet Mighty: 2ml E-liquid
Don't let the "Mini" in Pop Box Mini fool you. With its 2ml e-liquid capacity, it guarantees a flavorful and consistent vaping experience. Perfect for on-the-go users, it packs enough juice to keep you satisfied without any compromises. Every drop in this compact device promises an authentic and flavorful journey.
Stay Charged: 500 mAh Battery
Small in size but big on power, the Pop Box Mini boasts a 500 mAh battery. Designed for those who love portability without sacrificing performance, this battery ensures you get your vaping sessions just right, every time. Be it a quick break or a relaxed evening, your Mini won't let you down.
Puff to Your Heart's Content: 1000 Puffs
With 1000 puffs at your disposal, the Pop Box Mini strikes the perfect balance between compactness and longevity. Each puff offers a consistent flavor and strength, ensuring that your vaping experience is top-notch from the first drag to the last.
Sleek in Hand: Ergonomic Design
The Pop Box Mini takes user comfort to the next level with its ergonomic design. Perfectly shaped to fit the curve of your hand, it promises an effortless grip and a stylish look. Every aspect of the Mini is designed keeping you, the user, in mind – making it a joy to hold and vape.
Ready When You Are: Pre-Charged
The convenience of the Pop Box Mini shines with its pre-charged feature. Right out of the box, it's all set for your vaping pleasure. No waiting, no fuss – just pure, uninterrupted vaping. Ideal for those who want to vape without any delays.
Quick & Efficient: USB-C Charging Port
Recharge in a flash with the Pop Box Mini's USB-C charging port. Embracing the latest in charging technology, it ensures your device powers up quickly and efficiently. Whether you're at home or on the move, the Mini ensures you're never too far from your next vaping session.
Perfectly Balanced: 20mg Nic Salt Hybrid
The Pop Box Mini incorporates a 20mg nic salt hybrid, offering a sublime balance between strength and smoothness. Crafted for those who desire a satisfying throat hit without the harshness, the Mini delivers a vaping experience that's both potent and refined. Discover the perfect middle ground with every drag.
Palette of Pleasures: 15 Flavor Profiles
Dive into a world of taste with the Pop Box Mini's 15 flavor profiles. Every flavor has been meticulously crafted to offer an authentic and memorable experience. From tangy fruits to creamy desserts, from refreshing mints to rich tobaccos, the Mini offers a spectrum of delights to suit every palate. Whether you're looking to switch things up or find your signature taste, the Pop Box Mini has a flavor awaiting your discovery.
Popvapor: Canada's Premium Vape Choice
In the dynamic landscape of vaping, Popvapor stands as a beacon of excellence and innovation. Lauded across Canada as the leading vape store, our brand is synonymous with quality. All our vapes are crafted using cutting edge technology to efficiently convert nicotine salts into flavored vapor. Every Popvapor disposable vape we release is a testament to our dedication to the highest standards, ensuring vapers receive an unmatched experience every single time.
Discover the Popvapor Difference
What truly sets Popvapor apart? The innovative team at POP Vapor is committed to creating high-quality vaping products. It begins with our unwavering focus on the user experience. We're dedicated to creating each vape in Canada that resonates deeply with our community. Our relentless pursuit of innovation means we're always at the forefront, offering cutting-edge choice of vape flavors.
Impeccable design aesthetics, rigorous quality control processes, and a genuine passion for the craft set us apart. With Popvapor, it's not just about vapes in Canada. It's about joining a community that values quality, trust, and the sheer joy of the experience. Dive in and discover the Popvapor difference for yourself.
Understanding Nic Salts
Nic salts, or nicotine salts, are a unique form of nicotine found in tobacco leaves. They offer a smoother vaping experience compared to freebase nicotine, allowing users to vape higher nicotine strengths without the harsh throat hit. It's essential to understand your tolerance and select a strength suitable for your needs. While they provide a more satisfying nicotine hit for many, always ensure you're informed about their effects.
Age Restrictions and Responsible Vaping
We take our commitment to responsible vaping seriously. All our products are intended solely for adults of legal smoking age. We strongly discourage the sale and use of our products by minors. Age verification processes are in place to uphold this commitment. Remember, vaping is an adult activity, and it's essential to keep vape products out of reach of children and adolescents.
Pregnancy And Vaping
It is strongly advised to avoid both tobacco and nicotine during pregnancy, which means refraining from smoking as well as vaping. If you find it challenging to quit, it's a good idea to seek support from a 'stop smoking service' to assist you on your journey toward quitting.
Safety First: Vape Responsibly
While vaping offers an alternative to traditional tobacco products, it's crucial to prioritize safety. Always use devices as instructed, avoid modifying them in unapproved ways, and store them safely away from water, extreme temperatures, and direct sunlight. Additionally, be mindful of your consumption habits, recognizing any signs of overuse or adverse reactions. Your well-being is paramount.
Commitment to Compliance
We adhere to all regional and national regulations concerning vaping products. This dedication ensures that our products are not only of high quality but also meet the safety and health standards set by authorities. By purchasing from us, you're choosing a brand that values integrity, safety, and compliance.
* These are estimated business days for each province/territory and actual delivery times may vary. Tracking information is sent on order confirmation.
Shipping & Delivery Information For Ontario
In Ontario, the heart of Canada's vaping community, we work tirelessly to enhance the vape Ontario trusts! From Toronto's busy streets, where vape stores Toronto residents trust are in high demand, to Greater Toronto Area, our Ontario vape service has you covered. We provide guaranteed 1 business day delivery in the Greater Toronto Area. Searching for a vape shop in Ottawa or vape stores in Ottawa? With our efficient delivery services, consider us your go-to Ottawa vape solution.
In Mississauga, we bring you closer to the vaping products you love, eliminating the need for a dedicated vape shop in Mississauga. The same convenience extends to Brampton, where vape stores Brampton locals frequent can also opt for our fast delivery options. And for your vape delivery in Hamilton, you know who to ring!
Shipping & Delivery Information For Alberta
Alberta's vaping scene is equally diverse, and we're proud to collaborate with Alberta vape shops to bring you the finest in vaping technology. Whether you're in Calgary, Edmonton, or Ludec, we're your go-to vape store Alberta locals can rely on.
Shipping & Delivery Information For British Columbia
British Columbia, with its laid-back vibe, is no stranger to the vape culture. BC vapes are popular, and we're here to make them even better. Whether you're in Squamish or are looking for vape delivery in Surrey, or if you're browsing vape shops in Abbotsford and vape stores in Vancouver, we're your most convenient choice!
Shipping & Delivery Information For Manitoba
In Manitoba, the vaping community is flourishing, and Popvapor is thrilled to be a part of it. Whether you're in Winnipeg or in other areas, we aim to be the vape service you can count on. If you're not in the mood to find a local vape shop, you can enjoy our fast, reliable delivery services right to your doorstep in Manitoba
Shipping & Delivery Information For Nova Scotia
In the picturesque settings of Nova Scotia, the vape culture is not just alive but thriving. From Halifax to Bedford, Popvapor is committed to enhancing your vape Nova Scotia experience. Our goal is to be the Nova Scotia vape service you can rely on for quality and convenience regardless of the city you're in. Our prompt delivery brings your favorite vape products right to your doorstep across Nova Scotia.