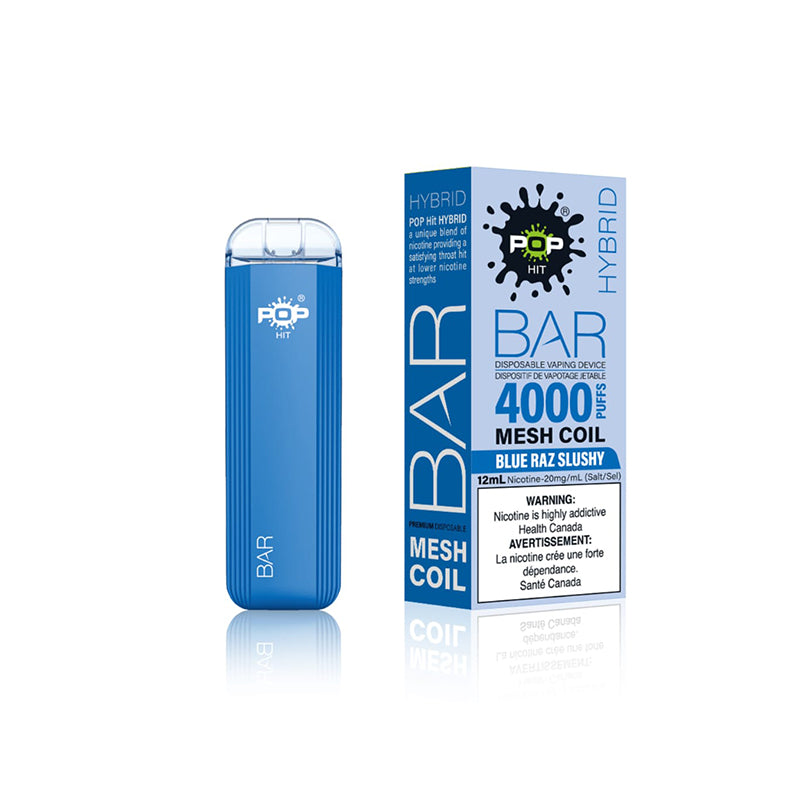 POP Bar Blue Raz Slushy
Disposable Vape
A mixture of blueberries and raspberries blended to perfection. It is a combo of sweet and tart and with every inhale, you go into an unmatched euphoria.
Dive into a chilling escape with PopVapor's Blue Raz Slushy Pop Bar! Packed with a tantalizing 11ml of frosty vape juice and boosted by 20mg nic salts, every inhale promises a delightful blast of icy blue raspberry goodness. Supported by a robust 1200mAh battery, this disposable vape ensures you savor every one of its 4000 puffs. Experience the peak of vaping craftsmanship, all from Canada's top vape store
Flavor Section: Dive into the Cool Waves of Blue Raz Slushy
Blue Raz Slushy Flavor

-

An Introduction to Frosty Bliss

Invoke the sensations of a summer escapade with every puff of Blue Raz Slushy. Every draw encapsulates the icy coolness of slush intertwined with the tangy sweetness of ripe blue raspberries. It's not just a flavor; it's an experience—a plunge into a refreshing pool of tantalizing taste sensations, awaiting eager palates.

 
Delving Deeper: The Allure of Blue Raz Slushy Pop Bar Vape
The magic of our Blue Raz Slushy disposable vape isn't merely in its taste. It lies in the precision of flavor replication, ensuring that every inhale mirrors the joy of sipping on an actual blue raspberry slushy.
As you explore layers of this unique vape flavor, get ready to be transported to those sunny boardwalks, where ice-cold drinks offer solace from the heat.
The PopVapor Edge: Why Our Blue Raz Slushy Stands Above the Rest
Vape Shops Online in Canada have witnessed an array of Blue Raz Slushy renditions, but what makes PopVapor's creation a true standout?
It's our unwavering commitment to authenticity. No artificial aftertaste, no oversweetened notes—just pure, exhilarating Blue Raz goodness. Every Pop Bar Blue Raz Slushy vape is a testament to this dedication, beckoning vape enthusiasts to indulge in the best Blue Raz Slushy experience.
Crafting the Perfect Slushy Experience: From Inspiration to Vape Shop Online

-

Blue Raz Slushy

Our journey with Blue Raz Slushy started from a simple idea: to capture the essence of a beloved summer treat in a vape. Today, it's a flavor that resonates with many, a staple in Vapes Online Blue Raz Slushy offerings. At PopVapor, we're proud to bring you closer to those cherished moments, one puff at a time.

The essence of Blue Raz Slushy isn't just in its tantalizing flavor but in the memories it invokes. Dive in, reminisce, and relish every moment with PopVapor's signature creation.
Unveiling the Specs: The Blue Raz Slushy Pop Bar Promise
PopVapor never skimps on quality, and the Blue Raz Slushy Pop Bar is a testament to this. Equipped with a formidable 1200mAh internal battery, this device is designed to last, ensuring every one of its 4000 puffs is as consistent and flavorful as the first.
With 11ml of premium vape juice brimming inside, each puff is a tantalizing dance of frosty Blue Raz Slushy flavors.
A Glimpse into the Design: Sleek, Compact, and Tailored for Blue Raz Lovers
From Online Vape Shop to personal pockets, the Pop Bar's compact design ensures it's ready for any adventure. Its sleek silhouette is unobtrusive, making it perfect for on-the-go vaping.
The vibrant hues echoing the blue raspberry notes aren't just visually appealing but serve as a constant reminder of the icy delight that awaits with every inhale.
User Experience: Simplicity Meets Longevity in the Blue Raz Slushy Disposable Vape
PopVapor understands the essence of a seamless vaping journey. That's why our Blue Raz Slushy Disposable Vape is not only rich in flavor but also uncomplicated to use.
No buttons, no refills, no fuss – just pure vaping enjoyment. The 20mg nic salts guarantee a smooth throat hit with every puff, making it an ideal choice for both novice and veteran vapers.
Commitment to Quality: The PopVapor Assurance with Every Pop Bar Blue Raz Slushy
Quality isn't an afterthought; it's the core of our brand. Every Blue Raz Slushy Pop Bar undergoes rigorous testing to ensure it meets our stringent standards.
From the initial concept at the Vape Shop Online Canada Blue Raz Slushy to the final product in your hands, our commitment to excellence remains unwavering.
The Legacy of PopVapor: Innovating Vape Flavours
PopVapor has always been at the forefront of vaping innovation. From our inception, we have sought to craft experiences that transcend the ordinary.
Our Blue Raz Slushy is a testament to this legacy—a flavor that seamlessly melds the frosty essence of slushy with the tangy zing of blue raspberry, setting new standards for Vape Flavours in the Blue Raz Slushy setting.
Dedication to Quality: The Hallmark of Every Blue Raz Slushy Pop Bar Vape
Every product bearing the PopVapor emblem embodies our unwavering commitment to quality. Our meticulous sourcing ensures only the finest ingredients grace our vape juices.
With each Blue Raz Slushy Pop Bar Vape, you're not just indulging in a flavor; you're experiencing the pinnacle of PopVapor craftsmanship—recognized and celebrated by Vape Shop Online in Canada by Blue Raz Slushy enthusiasts.
Pioneering New Heights: The Journey of Blue Raz Slushy in the Vaping World
PopVapor's journey with Blue Raz Slushy isn't about following trends; it's about creating them. We envisioned a vape experience that's both nostalgic and innovative—a taste sensation that reminds you of sun-drenched summer days while propelling the vape world to new horizons.
And with our ever-growing community's support, Blue Raz Slushy continues to make waves in the Best Vapes Blue Raz Slushy listings.
Joining the PopVapor Family: A Commitment to the Best Blue Raz Slushy Experience
When you choose PopVapor's Blue Raz Slushy, you're not just picking a flavor—you're joining a family. A family that stands by the principle of delivering unparalleled vape experiences, from the burst of the first puff to the satisfaction of the last. Your trust fuels our passion, driving us to redefine the boundaries of our Vape Shop Online.
With PopVapor, every inhale is a promise and every exhale, a delight. Discover the world of vaping like never before, anchored by our commitment and elevated by the icy embrace of Pop Bar Blue Raz Slushy.
Introducing Pop Bar
4000 Puffs
1000 Mah Rechargeable Battery
11 ml E-Liquid
50 Mg Puff Sensation
20 Mg Freebase Nic Salts Combination
USB-C Charging Port
Light Indication

Pop Bar Disposable Vape is the epitome of vaping excellence. Its impressive 11ml e-liquid capacity is paired with a robust 1200mAh battery, offering a colossal 4000 puffs for an enduring experience. The ergonomic design ensures it's comfortable to hold, while being pre-charged means you can start vaping right away. With a speedy USB-C charging port, you're never far from your next session. Enjoy the perfect balance of strength and smoothness with 20mg Nic Salt Hybrid, an advanced mesh coil, and explore an array of 15 flavor profiles.
Ample Euphoria: 11ml E-liquid
Pop Bar has a massive 11ml e-liquid capacity. This reservoir promises endless sessions of dense, flavorful clouds. Every milliliter is a testament to a vaping experience that keeps on giving, ensuring you dive deep into the world of flavors with every puff.
Reliable Reservoir: 1200 mAh Battery
Fuel your vaping passion with Pop Bar's sturdy 1200 mAh battery. Designed for longevity and consistent performance, this battery is the backbone of extended vaping sessions. With Pop Bar, you're equipped with reliable power, ensuring each drag is as perfect as the first.
Marathon Vaping: 4000 Puffs
Why settle for less when you can have more? With a staggering 4000 puffs, the Pop Bar is a beacon of endurance in the vaping world. From the occasional break to long, leisurely sessions, Pop Bar promises to be your unwavering companion, puff after satisfying puff.
Designed to Delight: Ergonomic Design
Holding the Pop Bar is a tactile pleasure. Its ergonomic design ensures a snug fit in your hand, merging comfort with style. Every angle, every curve is crafted with intention, making it not just a vaping device, but an extension of your persona.
Unbox & Unwind: Pre-Charged
No waiting games here! The Pop Bar arrives pre-charged, all set to deliver unparalleled vaping joy right out of the box. For those who value immediate satisfaction and convenience, the Pop Bar stands as an epitome of ready-to-vape brilliance.
Rapid Refuel: USB-C Charging Port
Time is of the essence, and with the Pop Bar's USB-C charging port, your device powers up in record time. Modern, efficient, and incredibly swift, this charging feature ensures you spend more time enjoying and less time waiting.
Harmony in Every Drag: 20mg Nic Salt Hybrid
Experience the nuanced balance with the Pop Bar's 20mg nic salt hybrid. This blend promises a vape that's robust yet smooth, striking the perfect chord between strength and silkiness. With every inhale, feel the harmony of premium nicotine salts caressing your senses.
Flavor Fidelity: Advanced Mesh Coil
Elevate your vaping with Pop Bar's advanced mesh coil. This coil technology guarantees even heat distribution, amplifying the e-liquid's true flavor. No more inconsistencies or burnt tastes; just pure, unadulterated flavor with every drag, ensuring a vaping session that's as authentic as it gets.
Spectrum of Sensations: 15 Flavor Profiles
Embark on a flavorful odyssey with Pop Bar's 15 flavor profiles. Whether you're in the mood for tropical tang, creamy confections, frosty mints, or classic tobacco notes, the Pop Bar offers a diverse palette for every discerning vaper. Each flavor is a new adventure, waiting to be explored and savored.
Popvapor: Canada's Premium Vape Choice
In the dynamic landscape of vaping, Popvapor stands as a beacon of excellence and innovation. Lauded across Canada as the leading vape store, our brand is synonymous with quality. All our vapes are crafted using cutting edge technology to efficiently convert nicotine salts into flavored vapor. Every Popvapor disposable vape we release is a testament to our dedication to the highest standards, ensuring vapers receive an unmatched experience every single time.
Discover the Popvapor Difference
What truly sets Popvapor apart? The innovative team at POP Vapor is committed to creating high-quality vaping products. It begins with our unwavering focus on the user experience. We're dedicated to creating each vape in Canada that resonates deeply with our community. Our relentless pursuit of innovation means we're always at the forefront, offering cutting-edge choice of vape flavors.
Impeccable design aesthetics, rigorous quality control processes, and a genuine passion for the craft set us apart. With Popvapor, it's not just about vapes in Canada. It's about joining a community that values quality, trust, and the sheer joy of the experience. Dive in and discover the Popvapor difference for yourself.
Understanding Nic Salts
Nic salts, or nicotine salts, are a unique form of nicotine found in tobacco leaves. They offer a smoother vaping experience compared to freebase nicotine, allowing users to vape higher nicotine strengths without the harsh throat hit. It's essential to understand your tolerance and select a strength suitable for your needs. While they provide a more satisfying nicotine hit for many, always ensure you're informed about their effects.
Age Restrictions and Responsible Vaping
We take our commitment to responsible vaping seriously. All our products are intended solely for adults of legal smoking age. We strongly discourage the sale and use of our products by minors. Age verification processes are in place to uphold this commitment. Remember, vaping is an adult activity, and it's essential to keep vape products out of reach of children and adolescents.
Pregnancy And Vaping
It is strongly advised to avoid both tobacco and nicotine during pregnancy, which means refraining from smoking as well as vaping. If you find it challenging to quit, it's a good idea to seek support from a 'stop smoking service' to assist you on your journey toward quitting.
Safety First: Vape Responsibly
While vaping offers an alternative to traditional tobacco products, it's crucial to prioritize safety. Always use devices as instructed, avoid modifying them in unapproved ways, and store them safely away from water, extreme temperatures, and direct sunlight. Additionally, be mindful of your consumption habits, recognizing any signs of overuse or adverse reactions. Your well-being is paramount.
Commitment to Compliance
We adhere to all regional and national regulations concerning vaping products. This dedication ensures that our products are not only of high quality but also meet the safety and health standards set by authorities. By purchasing from us, you're choosing a brand that values integrity, safety, and compliance.
Vape Delivery Shipping Information
Experience unparalleled convenience with Popvapor's seamless online ordering process. Choose between Standard and Express Shipping options to suit your needs.
* These are estimated business days for each province/territory and actual delivery times may vary. Tracking information is sent on order confirmation.
Shipping & Delivery Information For Ontario
In Ontario, the heart of Canada's vaping community, we work tirelessly to enhance the vape Ontario trusts! From Toronto's busy streets, where vape stores Toronto residents trust are in high demand, to Greater Toronto Area, our Ontario vape service has you covered. We provide guaranteed 1 business day delivery in the Greater Toronto Area. Searching for a vape shop in Ottawa or vape stores in Ottawa? With our efficient delivery services, consider us your go-to Ottawa vape solution.
In Mississauga, we bring you closer to the vaping products you love, eliminating the need for a dedicated vape shop in Mississauga. The same convenience extends to Brampton, where vape stores Brampton locals frequent can also opt for our fast delivery options. And for your vape delivery in Hamilton, you know who to ring!
Shipping & Delivery Information For Alberta
Alberta's vaping scene is equally diverse, and we're proud to collaborate with Alberta vape shops to bring you the finest in vaping technology. Whether you're in Calgary, Edmonton, or Ludec, we're your go-to vape store Alberta locals can rely on.
Shipping & Delivery Information For British Columbia
British Columbia, with its laid-back vibe, is no stranger to the vape culture. BC vapes are popular, and we're here to make them even better. Whether you're in Squamish or are looking for vape delivery in Surrey, or if you're browsing vape shops in Abbotsford and vape stores in Vancouver, we're your most convenient choice!
Shipping & Delivery Information For Manitoba
In Manitoba, the vaping community is flourishing, and Popvapor is thrilled to be a part of it. Whether you're in Winnipeg or in other areas, we aim to be the vape service you can count on. If you're not in the mood to find a local vape shop, you can enjoy our fast, reliable delivery services right to your doorstep in Manitoba
Shipping & Delivery Information For Nova Scotia
In the picturesque settings of Nova Scotia, the vape culture is not just alive but thriving. From Halifax to Bedford, Popvapor is committed to enhancing your vape Nova Scotia experience. Our goal is to be the Nova Scotia vape service you can rely on for quality and convenience regardless of the city you're in. Our prompt delivery brings your favorite vape products right to your doorstep across Nova Scotia.