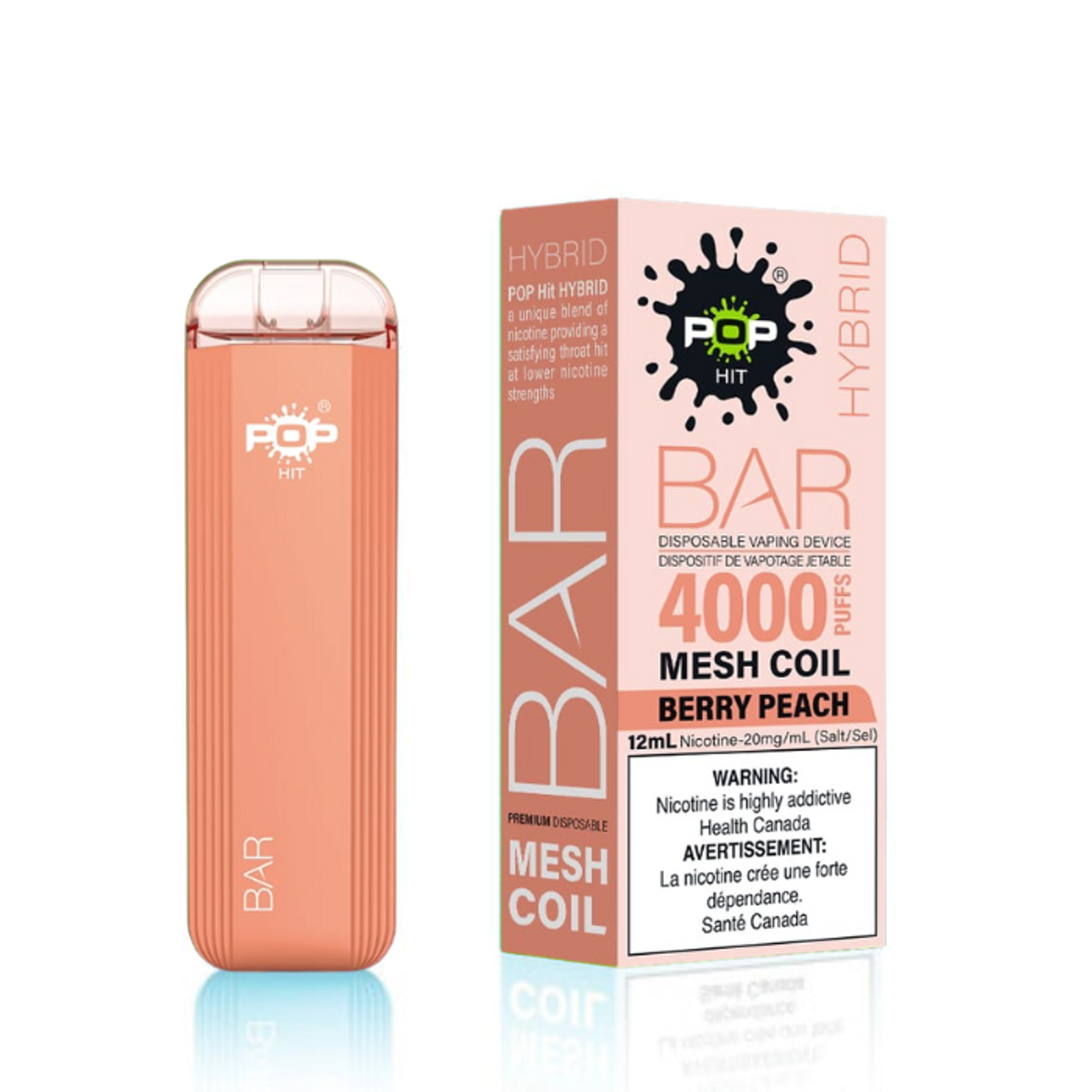 POP Bar Berry Peach
Disposable Vape
A fresh, juicy peach mixture that is perfectly complimented by a sour blue raspberry base.

Experience the tantalizing fusion of ripe berries and juicy peaches with our Berry Peach Pop Bar, fully charged, and ready to go! This disposable vape device delivers a burst of refreshing flavors that will captivate your taste buds. Designed with simplicity and convenience in mind, Berry Peach Pop Bar is perfect for both beginners and experienced vapers. With 11 ml vape juice, having 20 mg nic salt (combined with freebase liquid), the disposable vape offers a burst of flavors with every puff.
A Burst of Berry and Peach
Indulge in the irresistible combination of ripe berries and juicy peaches with our Berry Peach Pop Bar. With each puff, you'll experience a burst of vibrant and refreshing flavors that dance on your palate. The succulent sweetness of the berries perfectly complements the luscious tang of the peaches, creating a symphony of taste that is both tantalizing and satisfying. The harmonious fusion of these two fruits brings out the best of each, resulting in a flavor profile that is sure to leave you craving for more.
The Perfect Combination of Sweetness
Berry Peach Pop Bar is crafted with meticulous attention to detail to ensure a delightful vaping experience. The sweetness of the berries adds a natural and vibrant note to the flavor, while the juiciness of the peaches provides a refreshing and cooling sensation.
This combination strikes a perfect balance between sweetness and tanginess, creating a flavor that is enjoyable and not overly overpowering. It's the ideal choice for those who appreciate the harmonious blend of fruity sweetness with a hint of tartness.
When it comes to disposable vape devices, Berry Peach Pop Bar stands out for its exceptional quality and convenience. Our Pop Bar is designed with simplicity in mind. It comes pre-filled with premium e-liquid, ensuring a consistent and flavorful vaping experience from the first puff to the last. The integrated battery eliminates the need for recharging or replacing batteries, making it an effortless option for on-the-go vaping. The sleek and compact design fits comfortably in your hand or pocket, allowing you to enjoy the delightful berry and peach flavors wherever you are. 
Who Should Buy Berry Peach Pop Bar?
Berry Peach Pop Bar is a must-try for anyone who enjoys the invigorating flavors of berries and peaches. Whether you're a seasoned vaper or new to the world of vaping, this flavor is sure to captivate your taste buds. If you have a penchant for fruity blends that offer a burst of natural sweetness, Berry Peach Pop Bar is the perfect choice. It appeals to those seeking a refreshing and uplifting vaping experience that awakens their senses.
Portable and User-Friendly Design
The Berry Peach Pop Bar boasts a portable and user-friendly design that enhances your vaping experience. Its sleek and compact form factor makes it easy to carry in your pocket or bag, ensuring that you always have access to your favorite flavor.
The device is draw-activated, meaning there are no buttons or complex settings to navigate. Simply take a draw, and the device automatically activates, delivering the delectable berry and peach flavors with each inhale. Whether you're a beginner or an experienced vaper, the simplicity and portability of the Berry Peach Pop Bar make it a convenient and enjoyable choice.
No Refilling or Recharging Needed
Forget about the hassle of refilling e-liquid or recharging batteries. Pop Disposable Vape is a device that comes pre-filled with berry peach flavor. This hassle-free experience ensures that you can enjoy the vape without any inconvenience.
Easy-to-Use Disposable Vape Device
Designed for simplicity, berry peach Pop Bar is a hassle-free vaping solution. There are no buttons to press or settings to adjust. The draw-activated mechanism ensures that you can enjoy the flavors with ease.  
Brand Section
PopVapor – Your Trusted Vape Provider
When it comes to your vaping needs, Popvapor is your trusted partner. As a leading vape provider, we are committed to offering high-quality vape devices, including the Berry Peach Pop Bar. Our dedication to excellence and customer satisfaction sets us apart from the rest.
We prioritize the use of premium ingredients and rigorous quality control measures to ensure that every puff from our devices delivers a satisfying and enjoyable experience. With Popvapor, you can trust that you're getting a reliable and flavorful vape device that exceeds your expectations.
Why Choose Popvapor for Your Vape Devices?
When it comes to vape devices, Popvapor is the brand you can trust. We prioritize your vaping experience, and our berry peach Pop Bar is a testament to our commitment to excellence. With years of industry expertise, we strive to deliver products that meet the highest standards of quality and satisfaction.
Disclaimer Section
Understanding Vaping and Its Considerations
Vaping is a recreational activity enjoyed by many adults worldwide. Vaping should only be pursued by legal-aged individuals who have made an informed decision to use vape products.
Nicotine-containing products should be used responsibly, and it's essential to be mindful of the potential effects of nicotine on the body. Additionally, it's crucial to adhere to local regulations and guidelines regarding the use and disposal of vape devices.
For more information, consult your local authorities or reach out to our customer support team.
Legal Age Restrictions and Compliance
Berry Peach Pop Bar and other vaping products are intended for adult use only. It is essential to adhere to legal age restrictions and comply with local regulations regarding the purchase and use of vape products. We strictly enforce age verification procedures to prevent underage access to our website and ensure compliance with applicable laws.