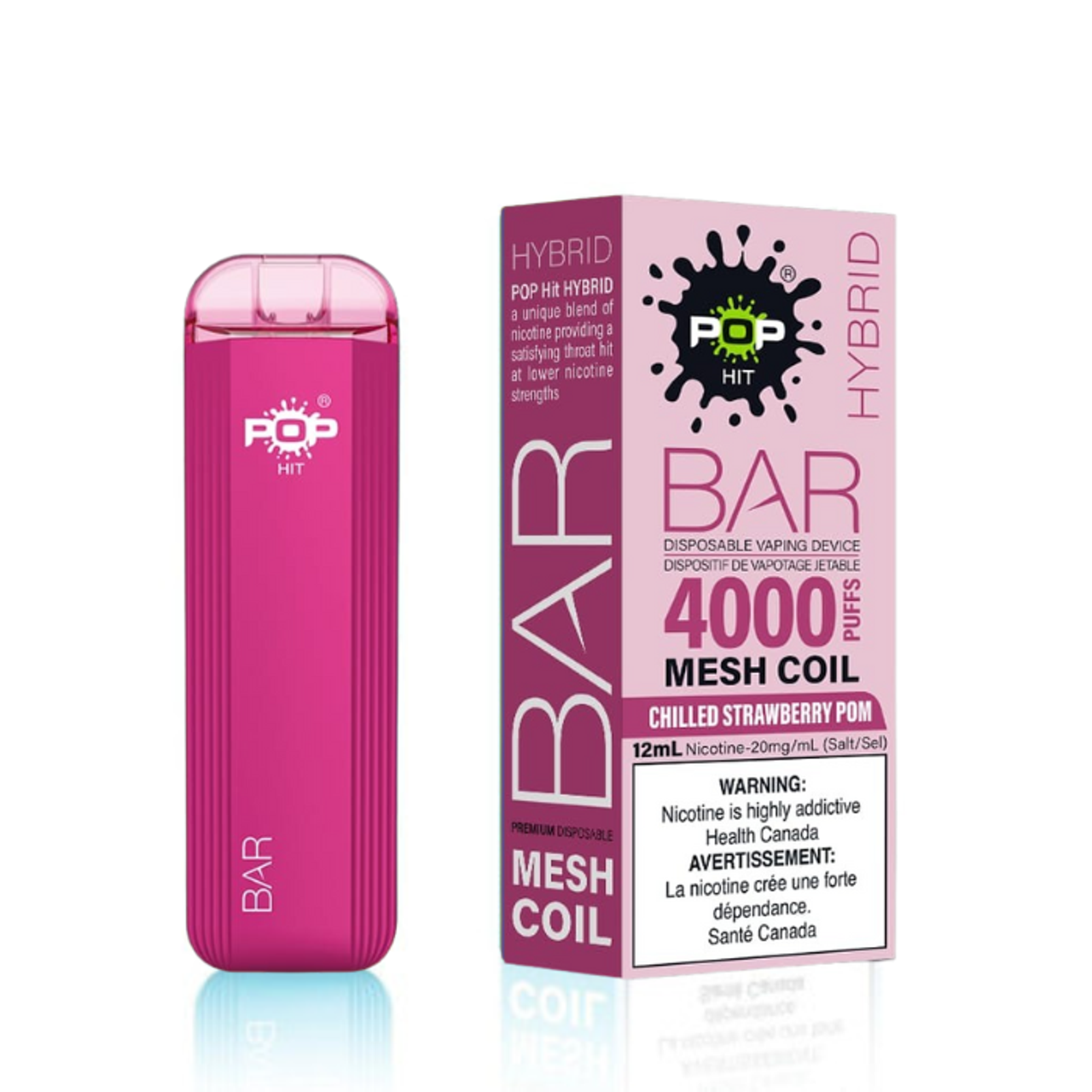 POP Bar Chilled Strawberry Pom
Disposable Vape
A fruity mixture of luscious strawberries and pomegranate with a hint of ice.

Discover the delightful combination of chilled strawberry and pomegranate with Chilled Strawberry Pom Pop Bar. This disposable vape offers a refreshing and invigorating flavor experience, perfect for vapers who crave a fruity fusion with a cooling twist. Pre-filled, and always ready to go, chilled strawberry pom comes with 11 ml vape juice, where each puff offers a 20mg throat hit due to the combination of nic salts with freebase liquids. With Pop Bar's convenient and portable design, you can enjoy the enticing flavors of Chilled Strawberry Pom wherever you go.
Experience the Refreshing Blend of Chilled Strawberry and Pomegranate
Chilled Strawberry Pom Pop Bar offers vibrant flavors of ripe strawberries and tangy pomegranate in the perfect fusion of a single vape. Our Chilled Strawberry Pom Disposable Vape offers a refreshing and invigorating experience with every puff. The icy coolness adds a unique twist to the classic fruity combination, creating a delightful vaping sensation.
Who Should Buy Chilled Strawberry Pom Pop Bar?
Chilled Strawberry Pom Pop Bar is a must-try for vapers who enjoy the fusion of fruit flavors with a cooling sensation. If you crave a refreshing and chilled vaping experience, this flavor is perfect for you. Whether you're new to vaping or an experienced enthusiast, Chilled Strawberry Pom Pop Bar provides a convenient and enjoyable option that will keep you coming back for more.
Indulge in the Perfect Balance of Sweetness and Coolness
Immerse yourself in the delightful fusion of flavors with Chilled Strawberry Pom Pop Bar. Each inhale will transport you to a garden of ripe strawberries and juicy pomegranates, while the coolness adds a refreshing twist.
The perfect balance of sweetness and coolness will satisfy your cravings and provide a truly enjoyable vaping experience. Don't miss out on this unique flavor combination – try Chilled Strawberry Pom Pop Bar today!
Device Section   
Introducing Pop Bar: The Ultimate Disposable Vape Device
Pop Bar is a leading vape in the industry, renowned for its innovative disposable vaping experience. Designed for simplicity and convenience, Pop Bar offers a hassle-free vaping experience without the need for refills or charging. Simply unwrap, inhale, and enjoy the delectable blend of flavors.
Convenient and Portable Vaping with Pop Bar Disposable Vape
Vape Pop Bar Disposable provides the ultimate convenience. Whether you're on the go, a busy professional, or simply prefer a hassle-free vaping experience, our disposable devices are the perfect choice.
Compact and lightweight, they fit effortlessly in your pocket or bag, allowing you to enjoy the refreshing Chilled Strawberry Pom flavor wherever you are. Say goodbye to complex devices and messy refills – Pop Bar makes vaping effortless.
Shop at the Best Vape Store for Chilled Strawberry Pom Disposable Vape
When it comes to purchasing Chilled Strawberry Pom Pop Bar and other top-quality vape products, look no further than our online vape store. We pride ourselves on offering an extensive range of flavors and devices, including the fan-favorite Chilled Strawberry Pom Pop Bar. With our user-friendly website and secure checkout process, you can shop with confidence and have your favorite vape products delivered straight to your door.
Brand Section
Why Choose Popvapor for Your Vape Devices?
When it comes to disposable vapes, Popvapor is the brand you can trust. We are committed to delivering a superior vaping experience, and our Chilled Strawberry Pom Pop Bar Vape is a testament to our dedication to quality. With a reputation for excellence and a wide range of flavors and devices, Popvapor is the preferred choice of vapers worldwide.
Unmatched Quality and Safety Standards
At Popvapor, we prioritize your safety and satisfaction. Our Chilled Strawberry Pom Pop Bar and other products undergo rigorous quality control processes to ensure they meet the highest industry standards. From the selection of premium ingredients to the manufacturing process, every aspect is carefully monitored and tested to provide you with a safe and enjoyable vaping experience.
Exceptional Customer Service
At Popvapor, we value our customers and strive to provide exceptional service. Our dedicated support team is here to assist you every step of the way, from product selection to troubleshooting. We are committed to ensuring your satisfaction and making your experience with Popvapor enjoyable and hassle-free. Shop with confidence, knowing that our team is always ready to assist you.
Disclaimer Section
Responsible Vaping Practices
We advocate for responsible vaping practices to ensure the safety and well-being of all users. This includes using vape devices as intended, following proper maintenance and storage guidelines, and using appropriate nicotine strengths. Additionally, it is crucial to keep vape products out of the reach of children and pets, as they can be harmful if ingested.
Legal Age Restrictions and Compliance
Chilled Strawberry Pom Pop Bar and other vaping products are intended for use by legal adults only. It is essential to comply with local laws and regulations regarding the legal age for purchasing and using vape products. We strictly enforce age verification procedures to prevent underage access to our products. We urge all customers to adhere to these guidelines and help promote responsible vaping practices.