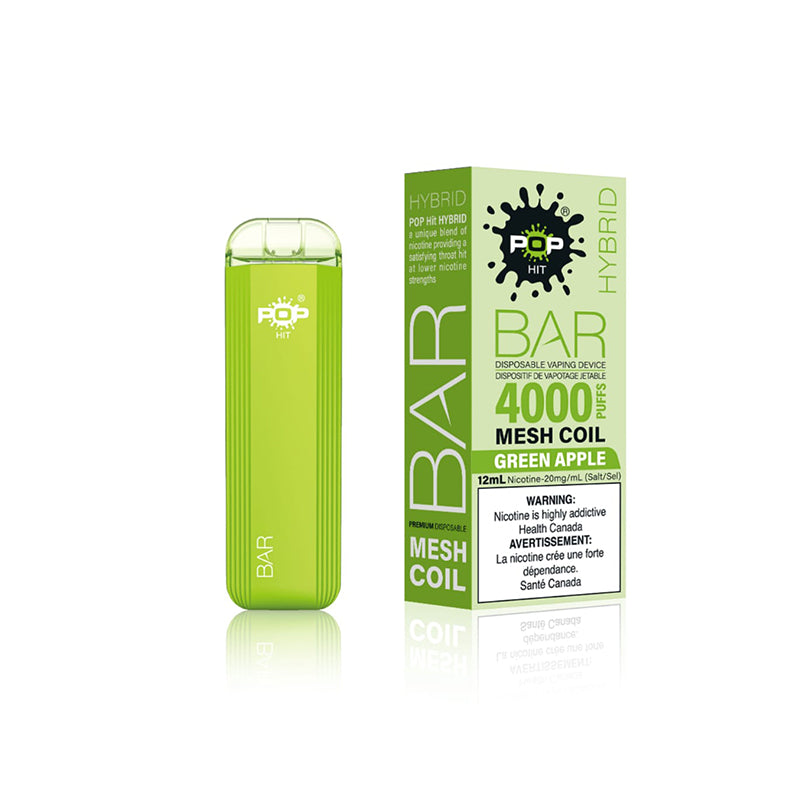 POP Bar Green Apple
Disposable Vape
This one brings fresh green apples goodness. Inhale a sweetly sour flavour that revitalizes you and leaves that perfect cloud in the air.
Indulge in the tangy delight of our Green Apple Pop Bar Disposable Vape. Engineered with a potent 1200 mAh battery, each device is filled with 11 ml of mouth-watering green apple vape juice, enriched with 20 mg nic salts for a smooth, fulfilling hit. Experience Canada's favorite green apple vape flavor with the trust and expertise of PopVapor. Your perfect on-the-go companion awaits!


Pop Bar Green Apple Disposable Vape: The Green Apple Galore
The allure of a freshly plucked green apple, with its crisp texture and tangy-sweet aroma, is undeniably tempting. Pop Bar captures this very essence in its Green Apple Disposable Vape, offering vapers a refreshing burst of orchard magic. Every inhalation is a celebration, bringing forth the vibrant spirit of sunlit apple groves, allowing users to savor the iconic flavor of green apples in its purest, most delectable form.
Bursting with Green Apple Goodness: The Authentic Taste Experience
Pop Bar's Green Apple is not just a flavor—it's an emotion, a nostalgia of those first bites into a juicy apple. The meticulous crafting begins with the selection of the finest green apple essences, aiming to deliver an experience that's as close to the real thing as possible.
Upon drawing, you're greeted with a slightly tart introduction that gently gives way to a subtle sweetness, mirroring the perfect balance found in nature's very own apples. It's a harmonious blend that promises an invigorating experience, making every puff a delightful escape.
Pop Bar's Signature Flavor Fusion: Why Green Apple Stands Out?
In the vast arena of Vape Flavours, Green Apple Pop Bar distinctly shines. What sets it apart? It's the brand's commitment to authenticity and richness. While many vapes promise the essence of green apple, Pop Bar delivers a multidimensional taste profile. It's not just about the initial flavor burst; it's about the lingering notes, the aftertaste that stays with you, making you yearn for more.
When combined with the expertise of PopVapor and the cutting-edge technology of the Pop Bar device, the Green Apple Disposable Vape becomes more than just a vaping product—it transforms into an experience, a journey through the orchards of flavor, and a story waiting to be told and retold with every puff.
Device Section: The Renowned Pop Bar Experience

Pop Bar is not just about flavors, but also a testament to advanced vaping technology. At its heart lies a powerful 1200 mAh battery, ensuring that the freshness of Green Apple doesn't wane before you've had your fill.
Preloaded with 11 ml of the enticing green apple vape juice, it ensures a lasting, uninterrupted experience. The 20 mg nic salts, meticulously infused, offer a smooth and satisfying hit, combining to give you an unparalleled vaping adventure.
Design and Ergonomics
The Pop Bar Green Apple Disposable Vape is a symphony of design excellence. Sleek, ergonomic, and fitting comfortably in the palm, it's designed for both aesthetics and user experience.
Its slender profile is perfect for those on-the-move moments, ensuring that the zest of green apple is never far from reach. The design is minimalist yet striking, capturing the very essence of the PopVapor brand—sophistication without pretense.
Usage and Maintenance: Effortless Vaping with the Pop Disposable Vape
Pop Bar is synonymous with convenience. The Green Apple Disposable Vape comes ready for immediate use—no complex setups, no messy refills. Simply unbox, draw, and let the flavors take over. Designed to be user-friendly, it's perfect for both seasoned vapers and novices, offering a hassle-free experience.
Brand Section: PopVapor - The Vape Store Green Apple Enthusiasts Trust
PopVapor is more than just a name; it's a legacy steeped in commitment, innovation, and an undying passion for excellence. From our beginnings, we've been at the vanguard of curating experiences that resonate, with the Green Apple Disposable Vape standing as a glowing testament. For those seeking the essence of biting into a crisp apple, PopVapor has consistently been the Vape Store Green Apple aficionados turn to.
Quality at the Core: The Vape Shop Online Canada Green Apple Advocates Choose
Quality isn't a mere attribute for us; it's foundational. Every product under the PopVapor umbrella embodies our dedication to delivering the best. From sourcing the finest ingredients to investing in rigorous testing, we've set an industry benchmark. It's no wonder that when enthusiasts look for Vape Shop Online Canada Green Apple offerings, PopVapor invariably stands out as the top choice.
Innovations & Achievements: Setting the Benchmark in Best Vapes Green Apple Varieties
In a rapidly evolving industry, staying ahead requires more than just following trends; it requires setting them. PopVapor's penchant for innovation has birthed products that aren't merely popular but transformative.
The Green Apple Disposable Vape is just one of our many groundbreaking offerings, revered for its authentic flavor and unparalleled quality. We don't just provide Best Vapes Green Apple experiences; we define them.
PopVapor isn't simply about creating products; it's about crafting experiences that linger. It's about the promise of authenticity, the celebration of flavors, and the relentless pursuit of perfection.
When you choose the Pop Bar Green Apple Disposable Vape, you aren't merely opting for a vaping device; you're embracing a tradition, a culture, and a standard that few can rival. Join us on this journey and discover why, for green apple enthusiasts, the road always leads to PopVapor.
Disclaimer Section: Vaping with Consciousness
Age and Health Considerations: Commitment to Responsible Vaping
PopVapor champions responsible vaping. Our products, including the lauded Pop Bar Green Apple Disposable Vape, are strictly for adult consumption. We urge adherence to local age restrictions when purchasing and using. It's crucial to be aware of the potential health implications related to nicotine, which is an addictive substance. If you're new or contemplating switching to the Green Apple flavor, consider consulting healthcare professionals to ensure safety and wellbeing.
Eco-Friendly Disposal: Cherishing Our Planet with Every Pop Bar Disposable Vape Green Apple
Our planet's health is paramount. While the Pop Bar Green Apple offers a delightful escapade into flavor, its end-of-life disposal matters immensely. Please be environmentally responsible. Adhere to local regulations concerning electronic waste, ensuring that used devices don't contribute to environmental degradation.