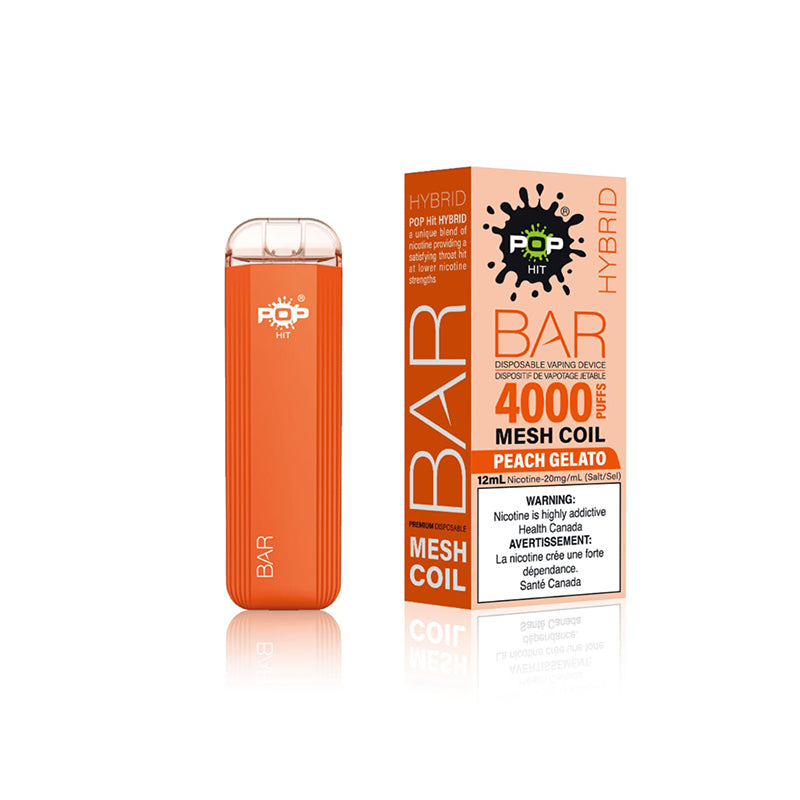 POP Bar Peach Gelato
Disposable Vape
Think of freshly sliced peaches twisted and blended into some gelato madness and topped with the right nicotine burst. Peach Gelato is your friend on gloomy days.
Peach Gelato Pop Bar Disposable Vape offers a sweet and creamy vaping experience that will delight your senses. Fully charged, Peach Gelato Pop Bar disposable vape comes equipped with 1200 mAh internal battery and 11 ml vape juice that is a combination of 20 mg nic salts and freebase liquid. Due to its convenience and user-friendly design, Pop Bar disposable vape peach gelato provides a hassle-free vaping experience without the need for refills.
Indulge in a Sweet and Creamy Delight
Peach Gelato Pop Bar, where the delectable taste of juicy peaches combines with a rich and creamy gelato essence. Our Peach Gelato Pop Disposable Vape offers a vaping experience that is both sweet and satisfying. With each inhale, you'll be treated to the succulent flavor of ripe peaches, layered with the smoothness of creamy gelato. It's like enjoying a frozen peach dessert in every puff.
Who Should Buy Peach Gelato Pop Bar?
Peach Gelato Pop Bar is a must-try for vapers who crave the mouthwatering flavor of fresh peaches and the creamy indulgence of gelato. If you appreciate the sweetness and velvety texture of peach-based treats, this flavor is perfect for you. Whether you're a beginner or an experienced vaper, Peach Gelato Pop Bar provides a convenient and delightful vaping experience that will leave you wanting more.
Why Choose Peach Gelato Pop Bar? This Peach Gelato disposable vape stands out among other vape flavors for its exceptional taste and quality. Our carefully crafted blend of peach essence and creamy gelato creates a harmonious fusion of flavors that will captivate your senses. Each Pop Bar disposable vape delivers consistent flavor and satisfying vapor production. With Peach Gelato Pop Bar, you can indulge in the luscious taste of peaches combined with the creamy goodness of gelato.
Discover the Best of Peach Gelato Flavor
Every puff will transport you to a sunny orchard where ripe peaches are transformed into a heavenly gelato. The tantalizing combination of flavors will delight your taste buds and leave you craving for more. Don't miss out on this extraordinary flavor experience – try Peach Gelato Pop Bar today!
Device Section
Introducing Pop Bar: Your Go-To Disposable Vape Device
Pop Bar is a well-known brand in the vaping business for its creative and user-friendly disposable vape devices. The Peach Gelato Pop Bar Vape is no different. The Pop Bar is designed for simplicity and convenience, providing a hassle-free vaping experience without the need for refills or charging. Simply unwrap, inhale, and enjoy the delectable flavor of Peach Gelato.
The Convenience of Pop Disposable Vape Pop Bar
Disposable Vapes provide unparalleled convenience. Whether you prefer vaping on the go or simply prefer a hassle-free vaping experience, our disposable devices are the perfect choice. Compact and lightweight, they easily fit in your pocket or purse, allowing you to enjoy the delicious Peach Gelato flavor anytime, anywhere. No more hassle with messy refills – Pop Bar makes vaping effortless.
Shop at the Best Vape Store for Peach Gelato
When it comes to purchasing Peach Gelato Pop Bar and other vape products, choose our online vape shop - PopVapor. We provide an extensive selection of flavors and devices, including the fan favorite Peach Gelato Pop Bar. With our user-friendly website, secure payment options, and fast shipping, you can conveniently order your favorite vape products from the comfort of your home. Trust us as your go-to source for all things Peach Gelato.
Brand Section
Why Choose Popvapor for Your Vape Devices?
Popvapor is the trusted brand for vape devices, and our Peach Gelato Pop Bar is a testament to our commitment to excellence. When you choose Popvapor, you're choosing a brand that prioritizes your vaping experience. With years of industry expertise, we strive to deliver products that meet the highest standards of quality and satisfaction.
Unmatched Quality and Safety Standards
Your safety is our top priority. All Popvapor products, including the Peach Gelato Pop Bar, undergo rigorous quality control processes to ensure they meet stringent safety standards. From the selection of premium ingredients to the manufacturing process, every step is carefully monitored and tested to guarantee a safe and enjoyable vaping experience.
Extensive Range of Vape Products At Popvapor, we understand that vapers have diverse preferences. That's why we offer an extensive range of vape products to cater to different tastes. From disposable devices like the Pop Bar to refillable pod systems and accessories, we have everything you need to enhance your vaping journey. Our commitment to variety ensures that you'll find the perfect vape device to suit your needs.
Exceptional Customer Service
You join our vaping community when you pick Popvapor. We take pride in offering great customer service and are always available to answer any questions or address any problems you may have. Our professional support team is dedicated to assuring your pleasure and making your Popvapor experience absolutely memorable.
Disclaimer Section
Responsible Vaping Practices
We promote responsible vaping practices to ensure a safe and enjoyable experience for all users. This includes using vape devices as intended, following proper maintenance and storage guidelines, and using appropriate nicotine strengths. Additionally, it's crucial to keep vape products out of the reach of children and pets, as they can be harmful if ingested.