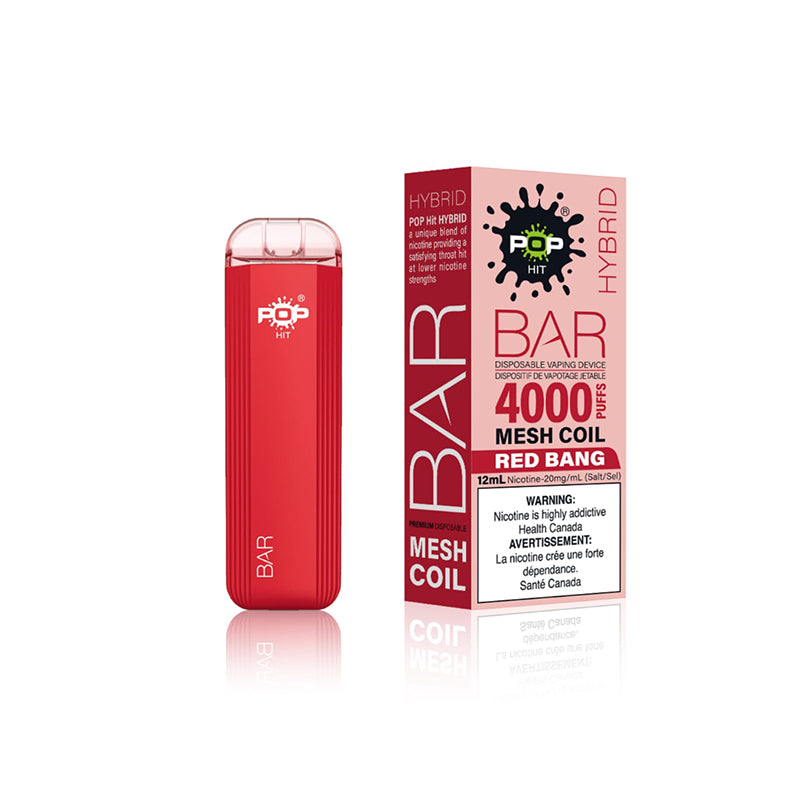 POP Bar Red Bang
Disposable Vape
A fruity punch of red berries is waiting for you. Grab some Red Bang and enjoy an euphoria like never before.
Dive into a world of intense flavor with the Red Bang Pop Disposable Vape. Designed by PopVapor, this device promises an unparalleled vaping journey packed with vibrant notes of red fruits. Pre-filled with 11 ml of premium vape juice, powered by a robust 1200 mAh internal battery, and enriched with 20 mg nic salts, every puff delivers a consistent and fulfilling experience. Elegant, powerful, and crafted for discerning vapers – that's the Red Bang promise!
1. Flavor Explosion: The Sensation of Red Bang
The Red Bang Experience: Delving into the Flavor Profile
Pop Bar Red Bang is not just a flavor; it's a sensation. Every inhale brings forth a vibrant blend of red fruits, striking the perfect balance between sweet and tart. This harmonious combination ensures that vapers are treated to a tantalizing taste that lingers long after the exhale.
Every Puff, A Revelation: Consistency of the Red Bang Pop Bar Vape
What makes the Red Bang stand out is its unwavering consistency. Every puff, from the first to the last, is a testament to PopVapor's commitment to delivering a consistent flavor experience. No drop in intensity, no muted notes—just pure Red Bang goodness every time.
A New Flavor Benchmark: Why Red Bang Stands Out
In a market flooded with fruit flavors, Red Bang has carved a niche for itself. Its distinct flavor profile, which captures the essence of luscious red fruits, sets a new benchmark in the vape world. It's not just about tasting the fruits; it's about experiencing them in all their glory.
Satisfying Throat Hit: The Perfect Nicotine Blend in the Red Bang Pop Disposable Vape
With 20mg nic salts infused into its premium vape juice, Red Bang Pop Bar doesn't just satisfy your taste buds. It also offers a smooth, gratifying throat hit that seasoned vapers seek. It's the perfect marriage of flavor and satisfaction, wrapped up in one sleek device.
With its rich flavor profile and unwavering consistency, the Red Bang Pop Bar Vape is truly in a league of its own. For those seeking a fruit-filled adventure, this is your ticket to vaping nirvana.
2. Device Mastery: The Engineering Behind the Red Bang Pop Bar
Specifications Spotlight: What Powers the Red Bang Experience
At the heart of the Red Bang Pop Disposable Vape is its powerhouse – a resilient 1200 mAh internal battery. Paired with 11 ml of pre-filled, flavor-packed vape juice, it ensures hours of uninterrupted vaping pleasure. And with 20 mg nic salts perfectly balanced within, every puff is a masterstroke of engineering and art.
Sleek Aesthetics: A Look at the Red Bang Design
Sleek, sophisticated, and stylish – the Red Bang Pop Bar embodies elegance in its design. Its ergonomic form factor ensures it rests comfortably between your fingers, while its vibrant aesthetics mirror the burst of flavors within. Discreet yet bold, it's a statement piece for every vaper.
User-Centric Design: Effortless Vaping with the Red Bang Pop Bar
PopVapor understands that a seamless vaping experience goes beyond just flavors. The Red Bang Pop Bar is designed with users in mind.
Its draw-activated firing mechanism ensures simplicity and convenience, eliminating the need for buttons or settings. Just inhale, and let Red Bang work its magic.
Reliability Meets Excellence: The PopVapor Promise with Every Red Bang Pop Bar
When you choose the Red Bang, you're not just choosing a flavor – you're choosing PopVapor's legacy of excellence. Every device undergoes rigorous quality checks, ensuring that it stands up to the brand's high standards. With Red Bang, reliability is not just a feature; it's a guarantee.
With top-notch specifications, an impeccable design, and the backing of PopVapor's unwavering commitment to quality, the Red Bang Pop Bar is more than just a vaping device. It's a statement of refinement, taste, and unmatched craftsmanship only at PopVapor, the best online disposable vape store in Canada.
3. Brand Essence: PopVapor's Commitment to the Red Bang Experience
PopVapor's Legacy: Crafting the Best Disposable Vape Red Bang
At PopVapor, innovation meets tradition. Since its inception, the brand has been at the forefront of redefining vaping experiences.
The Red Bang is not just a product; it's a culmination of years of research, development, and an unwavering commitment to excellence. Every Red Bang Pop Disposable Vape carries with it the weight of PopVapor's legacy.
A Flavor Journey: The Evolution of Red Bang in PopVapor's Portfolio
While the brand boasts an array of flavors, Red Bang's introduction was a game-changer. The meticulous blend of red fruits was born out of countless iterations and a drive to create a unique flavor profile. The result? A product that has become a fan favorite, setting a new gold standard in the Red Bang flavor lineup.
Unwavering Quality Standards: The Assurance Behind Every Red Bang Vape
PopVapor's promise is simple – premium quality, always. From the choice of ingredients to the manufacturing processes, every step is underlined by rigorous quality checks.
The Red Bang Pop Bar Vape, like every other product in their portfolio, is a testament to this commitment. When you choose Red Bang, you're choosing a brand that refuses to compromise on quality at our online vape shop.
Join the Red Bang Movement: Being Part of the PopVapor Family
Being a Red Bang enthusiast is more than just about savoring a flavor; it's about being part of a community. PopVapor's thriving community of vapers and enthusiasts share experiences, stories, and a collective love for the Red Bang flavor. It's not just a vape; it's a movement, and everyone's invited.
4. Disclaimer & Guidance: Navigating the Red Bang Experience Responsibly
Usage & Disposal: Best Practices with the Red Bang Pop Bar
To ensure the longevity of your device and an optimal vaping experience, avoid using the vape in a low battery state for prolonged periods. Once the device reaches its end of life, dispose of it responsibly, keeping environmesntal considerations in mind. Remember, a well-maintained device not only lasts longer but also ensures consistent flavor with each puff.