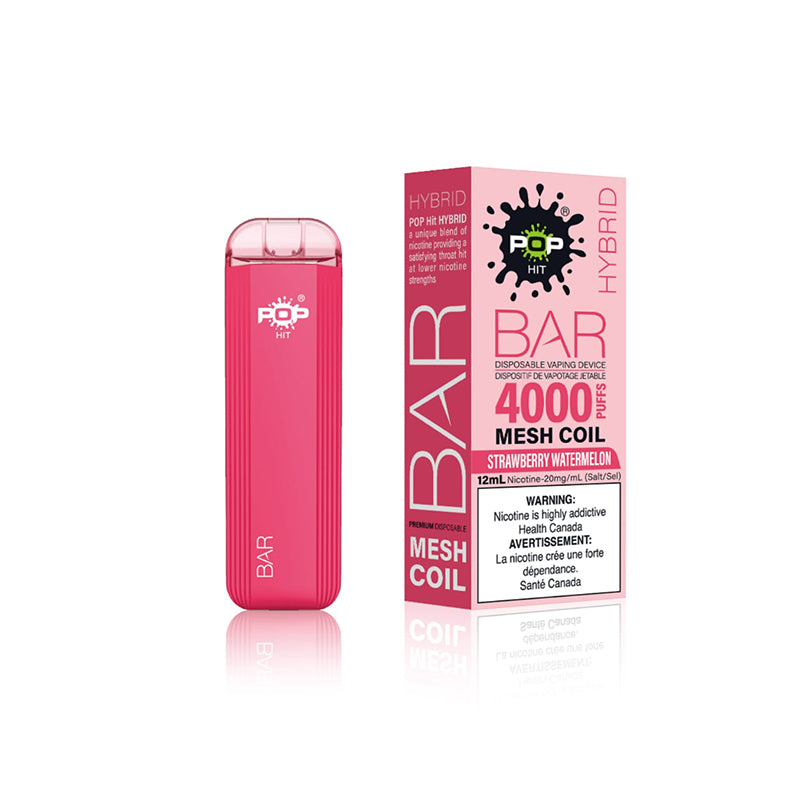 POP Bar Strawberry Watermelon
Disposable Vape
Who doesn't love a fusion of strawberries and watermelon with some chilly frosts to add some extra fun?
Pop Bar Strawberry Watermelon
Dive into a harmonious blend of summer's favorites with the Pop Bar Strawberry Watermelon Disposable Vape. Savor the delightful fusion of ripe strawberries and succulent watermelon, all packed into a sleek device. This top-tier vape comes fully charged with a powerful 1200mAh battery and 11ml of vibrant vape juice. Infused with 20mg nic salts for a smooth, satisfying hit and designed to deliver up to 4000 puffs, it's your perfect companion for a flavorful escape, anytime, anywhere.
Flavor Section: A Symphony of Summer's Sweetness
Two of nature's most tantalizing fruits join forces in the Pop Bar Strawberry Watermelon Disposable Vape. Imagine the sweetness of ripe strawberries, merged with the juicy undertones of refreshing watermelon.
It's a dynamic duo that promises a flavorful journey with each puff. Brought to you by PopVapor, this flavor combination transports you to sunny days, picnics, and that exhilarating feeling of biting into summer's finest fruits.
Savoring Strawberry & Watermelon: A Deep Dive into the Flavor Profile
On the first inhale, the bright and sweet notes of strawberry greet you, evoking memories of freshly picked berries. As you delve deeper, the watermelon unfolds, a symphony of juicy, subtle coolness that perfectly balances the strawberry's sweetness.
Together, they craft an experience that's both invigorating and soothing, a dance of flavors that resonates with both fruit aficionados and those seeking a refreshing vaping escape.
Why Pop Bar's Strawberry Watermelon Stands Out: The Secret Behind the Best Vape Flavors
Amidst a vast sea of vape flavors, Strawberry Watermelon stands as a beacon of authenticity and richness. PopVapor's commitment to sourcing the highest quality ingredients ensures that every draw feels genuine, replicating the raw essence of the fruits. No synthetic aftertaste, no overwhelming sweetness—just the pure, delightful harmony of strawberry and watermelon in their prime.
From Field to Pod: Crafting the Iconic Strawberry Watermelon Experience
PopVapor's journey with Strawberry Watermelon begins at the source, selecting fruits at their peak ripe for extraction. It's a meticulous process, translating nature's bounty into a concentrated form without losing the nuances.
From the sun-kissed fields to the state-of-the-art labs and finally to your Pop Bar, every step ensures that the Strawberry Watermelon Disposable Vape remains a testament to flavor purity and innovation.
Pop Bar's Strawberry Watermelon is not just another vape flavor—it's a tribute to the timeless appeal of summer fruits, an ode to days of sun and joy. Whether you're relishing a quiet moment or seeking an invigorating break, this blend promises a journey you'll cherish.
Device Section: Technology Meets Tropical Taste
Every Pop Bar device is an embodiment of technological prowess and our commitment to unparalleled vaping experiences. The Strawberry Watermelon flavor is encased in a device featuring a robust 1200mAh battery, ensuring that your vaping moments are long-lasting. Filled with 11ml of the finest vape juice, infused with 20mg nic salts, you're guaranteed a consistent and smooth draw from the first puff to the 4000th.
Design and Ergonomics: Elegance with Every Strawberry Watermelon Puff
The art of vaping isn't just about flavor—it's also about the feel, the grip, the aesthetic pleasure. Pop Bar's Strawberry Watermelon Disposable Vape is designed with user comfort in mind, boasting an ergonomic shape that's both sleek and comfortable to hold.
Its matte finish not only adds to its elegance but also ensures a no-slip grip, making every session a seamless delight.
Usage and Longevity: Hassle-Free Vaping, Berry-Melon Magic All Day
Bid farewell to the days of complicated setups and constant refills. The Pop Bar Strawberry Watermelon is your go-to for on-the-go vaping. With up to 4000 puffs, your days are filled with luscious berry-melon waves without the constant need for refills.
Brand Section: PopVapor - Pioneers in Vape Juice Online Canada Strawberry Watermelon Edition
From our humble beginnings, PopVapor has always been driven by a singular passion—to craft vaping experiences that stand the test of time. Over the years, we've honed our expertise, ensuring that each flavor, including the cherished Strawberry Watermelon, resonates with authenticity, richness, and a commitment to excellence.
In the vast panorama of Vape Stores Strawberry Watermelon flavor has remained a fan favorite, and PopVapor stands as a testament to quality, innovation, and unparalleled mastery that has always lived up to its reputation.
Quality First: Why PopVapor Reigns Supreme in Vape Stores Strawberry Watermelon Category
At the heart of our success lies an unwavering commitment to quality. Every Pop Bar Strawberry Watermelon Disposable Vape undergoes rigorous testing, ensuring that it meets our high standards.
Our team meticulously sources the finest ingredients, from the juiciest strawberries to the crispest watermelons, to craft vape juices that redefine taste. It's this dedication to quality that has positioned us at the forefront, making PopVapor a name synonymous with the best vape flavors Strawberry Watermelon has to offer.
 Innovations in Strawberry Watermelon: The PopVapor Distinction
In a world of fleeting flavors and momentary trends, PopVapor chooses to innovate, to pioneer. Our Strawberry Watermelon flavor isn't just about relishing two delightful fruits; it's about experiencing them in ways previously unimagined.
By constantly pushing the boundaries, leveraging the latest in vaping technology, and listening to our community, we've transformed the Strawberry Watermelon vape experience into an iconic sensation.
Choosing PopVapor's Strawberry Watermelon Pop Bar is more than a flavor choice—it's a statement. It's a nod to the discerning, the enthusiasts who seek out the very best. It's for those who don't just vape but cherish every inhale, every note, every nuance. Welcome to the PopVapor family, where every puff is a promise of something extraordinary.
Disclaimer Section: Vaping with Awareness
Age Restrictions and Health Considerations: Our Commitment to Conscious Vaping
PopVapor stands firmly on principles of responsibility and awareness. Our Strawberry Watermelon Pop Bar and all our vaping products are strictly intended for adults of legal vaping age, as per regional regulations. We urge all our customers to be aware of their health conditions and to consult with healthcare professionals if in doubt. Vaping is an experience, but it shouldn't come at the expense of well-being.