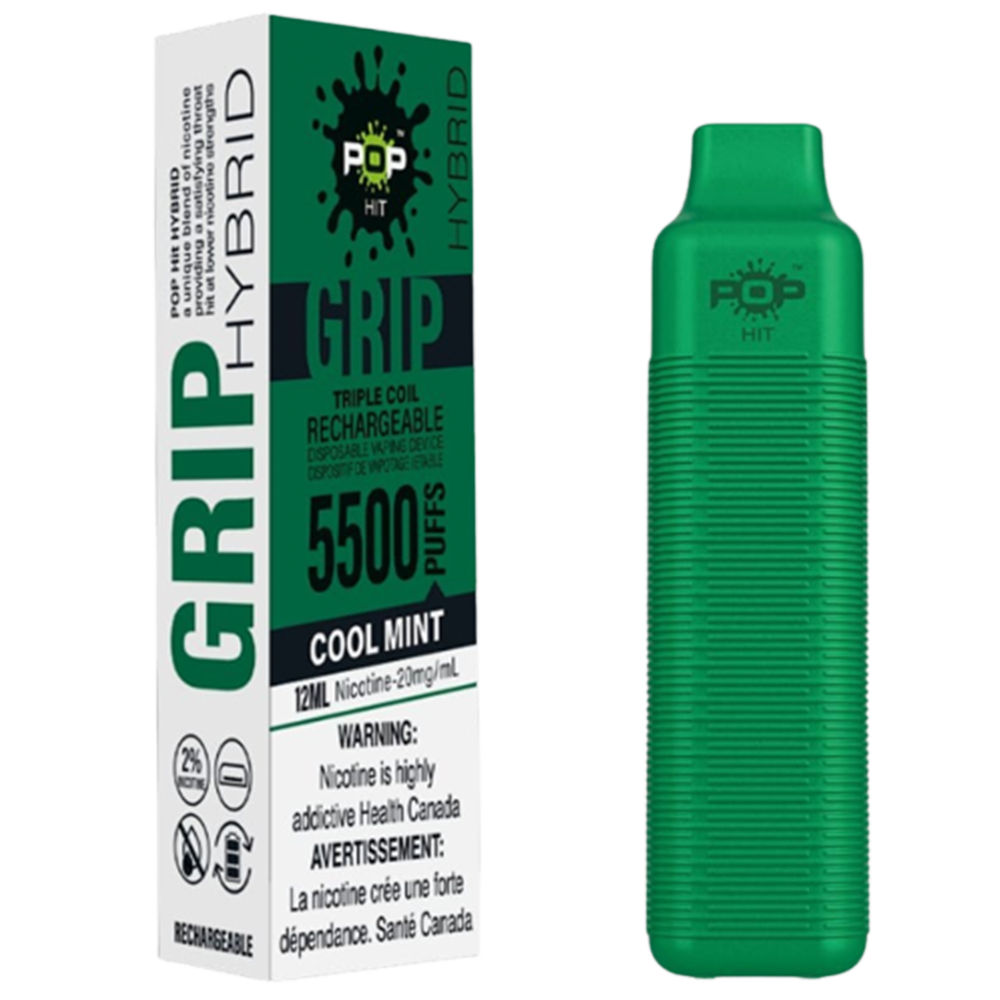 POP Grip Cool Mint
Disposable Vape
Oh, a classic mint is just the perfect flavour if you want something intense without adding any fruit. Enjoy minty nicotine hints with every inhale.
Discover the refreshing essence of disposable POP Grip Cool Mint by POPVapor. Experience 5500 puffs, pre-charged convenience, 12mL e-liquid capacity, and 20mg Nic Salt Hybrid. Immerse yourself in the pure and invigorating coolness of mint, delivering a burst of revitalizing freshness with each inhale. Elevate your journey with POP Grip Cool Mint, powered by a robust 1000mAh battery for extended pleasure. Let the clean and crisp taste of mint take you on a journey of rejuvenation, making every puff a refreshing escape into a world of icy delight.
Introducing Pop Grip
5500 Puffs
1000 Mah Rechargeable Battery
12 ml E-Liquid
50 Mg Puff Sensation
20 Mg Freebase Nic Salts Combination
USB-C Charging Port
Light Indication
POP GRIP is a 5500 puff disposable vape device. It comes fully charged with a 1000mAh rechargeable battery and a USBC charging port. This compact disposable vape contains 12mL of POP Hybrid vape e-liquid. POP Hybrid e-liquids combine nic salts with freebase liquids for a satisfying 20mg hit. Our hybrids provide a strong 50mg puff sensation with 20mg/ml nicotine content.
Sustainable Vaping: 5500 Puffs Per Device
Gone are the days of frequently replacing your vape device. With Pop Grip, you're investing in sustainability. Enjoy a staggering 5500 puffs per device, allowing weeks of consistent, smooth vaping. It's not just about quantity; every puff is a testament to quality, ensuring that your vaping experience in Canada remains unmatched. When you think Pop Grip in Canada, think endurance.
Powerful Battery Life: 1000 mAh Battery
Never compromise on your vaping sessions. With Pop Grip's robust 1000 mAh battery, you're always in control. The extensive battery life ensures you won't be left searching for a charging point midway. And when it's time to recharge, the process is swift and hassle-free. It's a device that's truly designed for modern life, making the Pop Grip disposable vape a leading choice for many.
12ml Vape Juice for Smooth Vaping
With Pop Grip's 12ml of vape juice, every moment becomes an exploration of taste and sensation. Dive deep into your favorite flavours, experiencing them in all their depth and richness. This is not just vaping; it's a gourmet experience, ensuring that with every puff, you're indulging in a luxurious treat.
Nicotine Strength: 20 mg Nic Salts
For those who seek more than just flavour, the Pop Grip disposable vape promises a satisfying nicotine experience. Packed with 20 mg nic salts, you're assured of a smoother, more potent nicotine hit compared to regular e-liquids. It's designed for those moments when you need that extra kick, ensuring that cravings are kept at bay, no matter where you are.
Revolutionary Mesh Coils for Unmatched Flavour
When it comes to vaping, flavours transmission is everything. The Pop Grip employs revolutionary mesh coils that maximize surface area and facilitate even heating. This cutting-edge feature ensures each puff delivers intense, pure flavours, offering an unrivalled vaping experience. Mesh coils are also renowned for their longevity, promising consistent taste quality over extended use.
Dive into Diversity: 19 Flavour Profiles
Why settle for monotony when you can savour a symphony of flavours? The Pop Grip offers a diverse array of 19 flavour profiles, ranging from fruity zest to smooth tobaccos and refreshing mints. With such an expansive selection, you're not just vaping; you're embarking on a full-fledged sensory journey. Explore, discover, and find your new favourites today.
Ergonomic Shape & Compact Design: Vaping in Style
Gone are the days of bulky, cumbersome vape devices. Pop Grip features an ergonomic shape and compact design that fits comfortably in your hand and slips easily into your pocket. Its modern aesthetic complements its functional design, making it not just a vape device but a fashion statement. Elevate your vaping experience and do it in style with Pop Grip.
Ready to Vape: Pre-Charged and Rechargeable
In the fast-paced world, waiting is not an option. The Disposable vape pop grip understands this ethos. Ready to use straight out of the box and pre-charged for your convenience, it ensures you're always a step ahead. And with the recharging option, interruptions become a thing of the past.
 Popvapor: Canada's Premium Vape Choice
In the dynamic landscape of vaping, Popvapor stands as a beacon of excellence and innovation. Lauded across Canada as the leading vape store, our brand is synonymous with quality. All our vapes are crafted using cutting edge technology to efficiently convert nicotine salts into flavored vapor. Every Popvapor disposable vape we release is a testament to our dedication to the highest standards, ensuring vapers receive an unmatched experience every single time.
Discover the Popvapor Difference
What truly sets Popvapor apart? The innovative team at POP Vapor is committed to creating high-quality vaping products. It begins with our unwavering focus on the user experience. We're dedicated to creating each vape in Canada that resonates deeply with our community. Our relentless pursuit of innovation means we're always at the forefront, offering cutting-edge choice of vape flavors.
Impeccable design aesthetics, rigorous quality control processes, and a genuine passion for the craft set us apart. With Popvapor, it's not just about vapes in Canada. It's about joining a community that values quality, trust, and the sheer joy of the experience. Dive in and discover the Popvapor difference for yourself.
Understanding Nic Salts
Nic salts, or nicotine salts, are a unique form of nicotine found in tobacco leaves. They offer a smoother vaping experience compared to freebase nicotine, allowing users to vape higher nicotine strengths without the harsh throat hit. It's essential to understand your tolerance and select a strength suitable for your needs. While they provide a more satisfying nicotine hit for many, always ensure you're informed about their effects.
 Age Restrictions and Responsible Vaping
We take our commitment to responsible vaping seriously. All our products are intended solely for adults of legal smoking age. We strongly discourage the sale and use of our products by minors. Age verification processes are in place to uphold this commitment. Remember, vaping is an adult activity, and it's essential to keep vape products out of reach of children and adolescents.
 Pregnancy And Vaping
It is strongly advised to avoid both tobacco and nicotine during pregnancy, which means refraining from smoking as well as vaping. If you find it challenging to quit, it's a good idea to seek support from a 'stop smoking service' to assist you on your journey toward quitting.
 Safety First: Vape Responsibly
While vaping offers an alternative to traditional tobacco products, it's crucial to prioritize safety. Always use devices as instructed, avoid modifying them in unapproved ways, and store them safely away from water, extreme temperatures, and direct sunlight. Additionally, be mindful of your consumption habits, recognizing any signs of overuse or adverse reactions. Your well-being is paramount.
 Commitment to Compliance
We adhere to all regional and national regulations concerning vaping products. This dedication ensures that our products are not only of high quality but also meet the safety and health standards set by authorities. By purchasing from us, you're choosing a brand that values integrity, safety, and compliance.
Vape Delivery Shipping Information
Experience unparalleled convenience with Popvapor's seamless online ordering process. Choose between Standard and Express Shipping options to suits your needs.

* These are estimated business days for each province/territory and actual delivery times may vary. Tracking information is sent on order confirmation.
Shipping & Delivery Information For Ontario
In Ontario, the heart of Canada's vaping community, we work tirelessly to enhance the vape Ontario trusts! From Toronto's busy streets, where vape stores Toronto residents trust are in high demand, to Greater Toronto Area, our Ontario vape service has you covered. We provide guaranteed 1 business day delivery in the Greater Toronto Area. Searching for a vape shop in Ottawa or vape stores in Ottawa? With our efficient delivery services, consider us your go-to Ottawa vape solution.
In Mississauga, we bring you closer to the vaping products you love, eliminating the need for a dedicated vape shop in Mississauga. The same convenience extends to Brampton, where vape stores Brampton locals frequent can also opt for our fast delivery options. And for your vape delivery in Hamilton, you know who to ring!
Shipping & Delivery Information For Alberta
Alberta's vaping scene is equally diverse, and we're proud to collaborate with Alberta vape shops to bring you the finest in vaping technology. Whether you're in Calgary, Edmonton, or Ludec, we're your go-to vape store Alberta locals can rely on.
Shipping & Delivery Information For British Columbia
British Columbia, with its laid-back vibe, is no stranger to the vape culture. BC vapes are popular, and we're here to make them even better. Whether you're in Squamish or are looking for vape delivery in Surrey, or if you're browsing vape shops in Abbotsford and vape stores in Vancouver, we're your most convenient choice!
Shipping & Delivery Information For Manitoba
In Manitoba, the vaping community is flourishing, and Popvapor is thrilled to be a part of it. Whether you're in Winnipeg or in other areas, we aim to be the vape service you can count on. If you're not in the mood to find a local vape shop, you can enjoy our fast, reliable delivery services right to your doorstep in Manitoba
Shipping & Delivery Information For Nova Scotia
In the picturesque settings of Nova Scotia, the vape culture is not just alive but thriving. From Halifax to Bedford, Popvapor is committed to enhancing your vape Nova Scotia experience. Our goal is to be the Nova Scotia vape service you can rely on for quality and convenience regardless of the city you're in. Our prompt delivery brings your favorite vape products right to your doorstep across Nova Scotia.