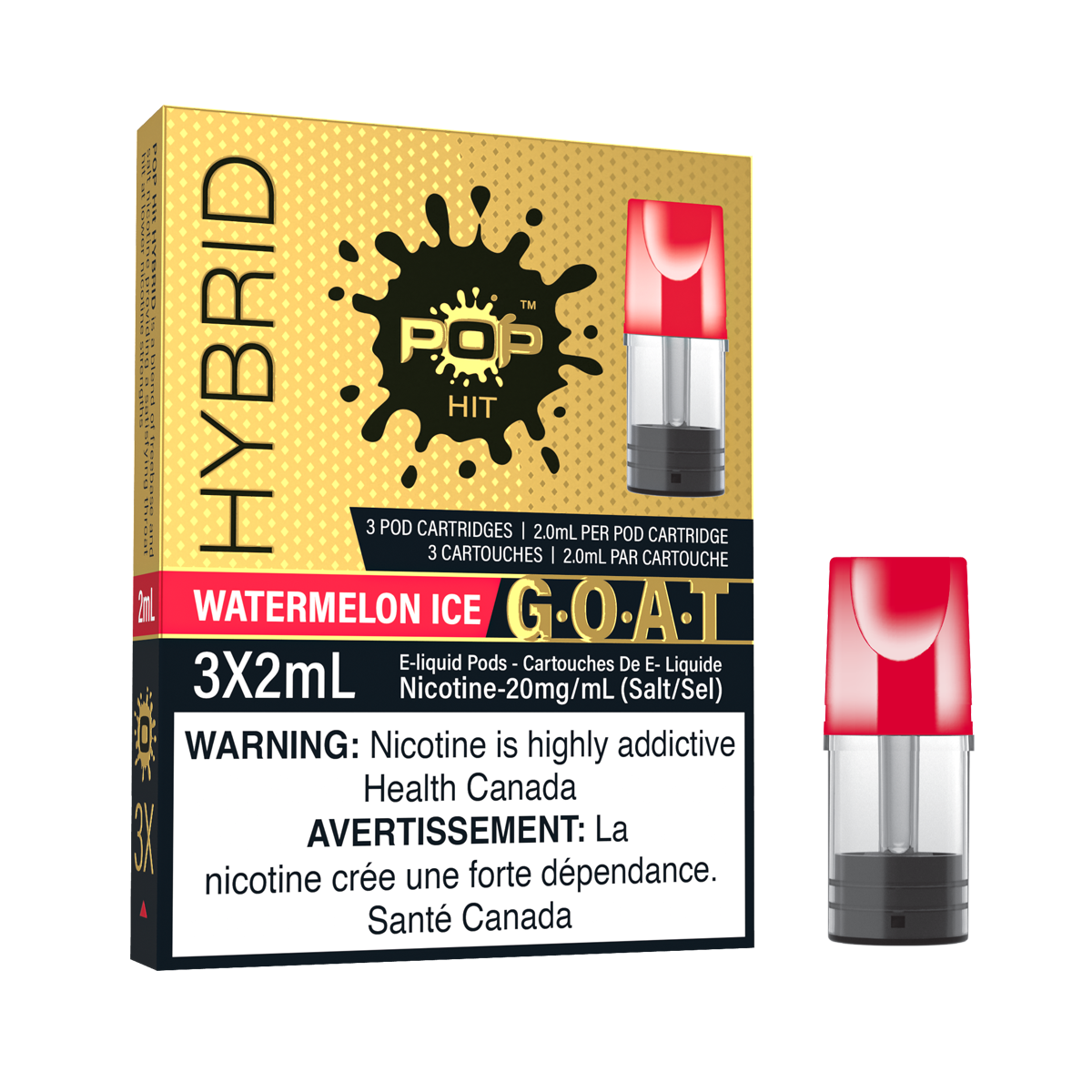 POP Pods Watermelon Ice
G.O.A.T Series - 3 Pack
Watermelon Ice Pop Pods, a premium product in the G.O.A.T series are meticulously crafted pods, filled with a delightful mix of watermelon sweetness and a frosty finish. Each pod holds 2 ml of this refreshing blend, and every pack comes complete with 3 pods. Designed for efficiency, each pod offers up to 400 puffs, complemented by a robust 20mg throat hit for an immersive sensory experience. Moreover, they boast compatibility with Stlth and Allo devices, blending seamlessly with your vaping lifestyle. Dive into the world of vibrant and satisfying flavors with our Watermelon Ice Pop Pods and experience the difference today.
Experiencing the G.O.A.T Series Watermelon Ice Pop Pods: A Symphony of Flavor
The G.O.A.T Series Watermelon Ice pop pod is an excellent choice for vapers who appreciate a well-rounded, refreshing flavor profile. The tantalizing sweetness of watermelon, coupled with a cooling icy kick, offers a balanced, refreshing experience. The 20mg throat hit appeals to those who prefer a more robust sensation without overpowering the inherent flavors.
Delve into an unparalleled flavor journey with the G.O.A.T Series Pop Pod Flavors, featuring our Watermelon Ice variant. This blend offers a harmonious fusion of the refreshing sweetness of watermelon with a crisp, icy finish that captivates the taste buds. With each 2 ml pod delivering up to 400 puffs, the Watermelon Ice Pop Pods consistently provide a vibrant, flavorful experience.
This Pop Hybrid Pod Flavor is not just about the incredible taste but also about compatibility and convenience. Each pack includes three 2 ml pods that are compatible with both Stlth and Allo devices, allowing vapers to enjoy this refreshing Watermelon Ice experience with their existing equipment.
Why Choose Watermelon Ice: The G.O.A.T Series Pop Pod Flavors That Stands Out
In the world of vaping, finding a unique, satisfying flavor that stands the test of time can be challenging. That's where the Watermelon Ice Pop Hybrid Pod truly shines. Its distinctive blend of refreshing watermelon and icy coolness offers a consistently satisfying vape that you can enjoy throughout the day.
In summary, the G.O.A.T Series Watermelon Ice Pop Pods offer a vibrant, consistent flavor profile, combined with the convenience of compatibility with popular vaping devices. It is an excellent choice for both flavor enthusiasts and those seeking a refreshing alternative to their regular vape flavors.
Understanding the Pop Hybrid Pods: An Evolution in Vape Delivery
Innovatively designed and intricately crafted, the Pop Hybrid Pods revolutionize the vaping landscape. They deliver a fusion of exceptional functionality and superior flavor delivery, making them stand out in the extensive range of pod vape systems available.
The G.O.A.T series Pop Hybrid Pods, particularly the Watermelon Ice pods, are meticulously engineered to ensure the most efficient and enjoyable vape experience. Each 2 ml pod guarantees 400 puffs of your favorite Watermelon Ice flavor, providing a robust and convenient vaping experience that aligns with the needs of the modern-day vaper.
Watermelon Ice Pop Hybrid Pods: The Perfect Blend of Design and Functionality
Functionality does not compromise design in the G.O.A.T series Pop Hybrid Pods. The Watermelon Ice Pop Pods are designed to be user-friendly, compact, and easily portable. They fit seamlessly into your day-to-day routine, whether you are at home, at work, or on the go. Moreover, the stlth watermelon ice pods also ensure a hassle-free switch for those looking to enjoy the refreshing on different devices.
Why the G.O.A.T Series Pop Hybrid Pods Are Your Best Choice for Vaping
When it comes to selecting the ideal pods for your vaping needs, the G.O.A.T Series Pop Hybrid Pods, especially the Watermelon Ice flavor, emerge as a clear choice. Their innovative design, coupled with their flavor delivery efficiency and device compatibility, make them a compelling choice for both experienced and novice vapers.
Each pack of G.O.A.T series Pop Pods brings you three 2ml pods, enough to deliver up to 1200 puffs of the refreshing Watermelon Ice flavor. Making watermelon ice pods not only truly remarkable in terms of vaping, but also their longevity. 
Safety Warnings and Instructions
Using a vape device, such as the G.O.A.T series Pop Hybrid Pods, involves certain safety precautions to ensure a safe and enjoyable experience. Make sure to follow the instructions provided with your device meticulously. Always keep your vape pods out of reach from children and pets, and never attempt to disassemble or alter your pods in any way.
Avoiding Contact with High Temperatures
Like any other electronic device, vape pods need to be kept away from extremely high temperatures. Exposure to intense heat can compromise the pod's integrity and potentially harm the device. Hence, always store your G.O.A.T series Pop Pods in a cool, dry place.
Avoiding Contact with Water or Other Liquids
Vape pods, including the G.O.A.T series Pop Pods, are not water-resistant. Contact with water or other liquids can cause malfunctioning and reduce the lifespan of the pod. It's important to keep your pods dry at all times to ensure their longevity and optimal performance.
Not Using in No Smoke Areas
Despite vaping not producing traditional smoke, it's crucial to respect public spaces and abide by the rules of "No Smoking" areas. Always vape responsibly, taking into account the comfort and consent of people around you.
POP Pods are licensed by 10405205 Canada Inc. O/A Stlth Vape